Grizzly Cabinet Saw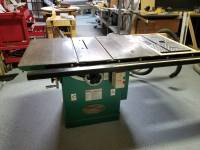 The "Griz" gets used more than any other woodworking tool we have. We have several jigs that helps including a tenoning jig and some cross cut sleds. We have dust collection that gets most of the dust from the saw, but some always gets out of the blade, therefore, safety glasses are ALWAYS required.
Accessories
We currently have the following accessories with this equipment:
Tenon Jig

Dado blade

Shop Fox fence

Cross cut sled jig 1

Cross cut sled jig 2
Special Instructions
When using the table saw, please be sure to do the following:
Make sure you have no loose clothing that can get caught in saw.

Use eye protection.

Use hearing protection.

Use a push stick to push material past the blade, and keep your hands free.
Details
---