Table of Contents
Baileigh brake and sheer

This machine includes a brake, sheer, and roll. The brake can be used for making sharp, precise bends in sheet metal. The sheer is used to cut sheet metal. And the roll is used to give a gentle curve to sheet metal.
The manual can be found here.
Safety
Safety glasses are always required.
Special Instructions
Line up the sheet metal where you want it to be cut or bent.

Pull down on the lever.
Details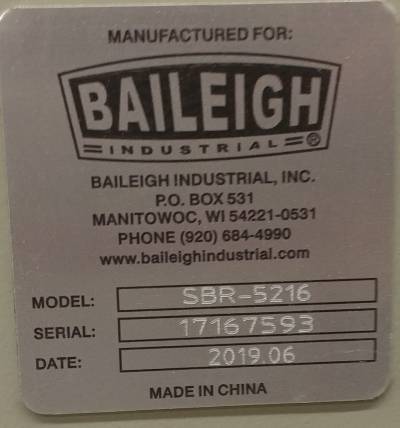 Attribute
Detail
Manufacturer
Baileigh Industrial
Model
SBR-5216
Bed width
52 inches (1312mm)
Sheer capacity
16 gauge (0.060 inches, 1.90mm) mild steel, or .039 inches stainless steel
Brake capacity
16 gauge (0.060 inches, 1.90mm) mild steel, or .039 inches stainless steel
Roll capacity
16 gauge (0.060 inches, 1.90mm) mild steel, or .039 inches stainless steel
Maximum bend angle
90 degrees
Minimum roll diameter
2.38 inches (60.5mm)
Box depth
4 inches
Frame and base material
Cast iron
Brake material
Ground steel w/ hardened edge
Sheer table material
Precision ground cast iron
Sheer blade material
Hardened steel
Sheer hold-down clamp material
Spring loaded cast iron
Power requirement
Manual (raw muscle power, aided by some leverage)
Owner
ChattLab